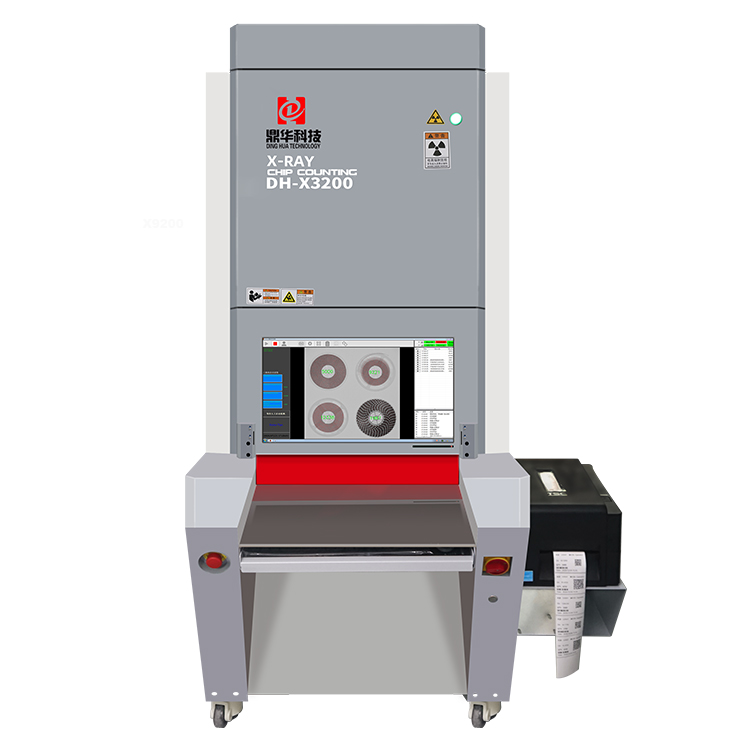 Introduction:
The latest DH-XC3200 spotting machine integrates the advantages of the old X-RAY spotting machine, improves its appearance design,
and makes it more convenient for you to use. The new X-RAY spotting machine for fast counting of reel materials in the SMT industry can
point more Coiled material, bulk material, random material, desiccant covering material...
This equipment is for material counting of resistance-capacitance materials and IC materials in the electronic industry. X-RAY plate counting
machine (model: DH-XC3100) is a patented product designed based on X-RAY technology combined with machine vision image technology
and automation technology. Points and automatic unloading improve the management accuracy and efficiency for the production department,
and greatly save labor costs.


The operating software of the X-RAY plate counting machine is rich in functions and easy to learn. The software automatically judges and counts
images according to the product type; at the same time, you can choose to manually or automatically save the material type, counting result, detection
time, scan times and other data to the machine Database; can provide data query function; and provide functions such as manual saving of product images.
The product protection structure follows GBZ117-2015 "Industrial X-ray Flaw Detection Radiation Health Protection Standard" and GB/T18871-2002 "Basic
Standard for Ionizing Radiation Protection and Radiation Source Safety".
Product Features
①Using the industry's largest flat-panel X-ray imager, with a large imaging range, high precision and fast speed;

②Integrated high-frequency X-ray generator, fully enclosed design, intelligent management, safe and durable, reducing equipment loss and failure;

③Barcode gun to read barcode;

④Local database storage, real-time data can be uploaded to the factory REP software;



⑤Automatic fluoroscopic imaging, automatic analysis of automatic points;
⑥Double safety insurance, closed protective cabinet, the X-ray radiation outside the cabinet is close to the natural background radiation;

⑦No operating console, the device is equipped with a touch industrial display to save space;
⑧Save 5~6 people in labor.



Features and Benefits
Function
Advantages

Automatic off / on x-ray light tube

The accuracy rate can reach 99.99%

Automatic feeding

Only 9-12s to complete the counting material

Support multiple disks counting at the same time

Closed cabinet design, safe and reliable

Automatic Analysis Automatic counting

Support up to 4 trays of 7-inch materials to be counted at the same time,
and a single tray of 17-inch materials

Automatically scan one-dimensional code, two-dimensional code

Support random material, bulk material, multi-disk material inventory

Inductive printing of material labels

Independent research and development of AI material ordering algorithm,
developed according to user needs

Data can be saved locally and automatically uploaded to the EMS system

Save labor for 5-7 people
Function Introduction

Independent research and development of AI intelligent X-RAY sorting algorithm

Humanized function of super strong experience sense

The outter shape Design of Intelligent X-RAY Dispenser

10,000+ material types can be ordered, and new material calculation models are constantly learning and building

Automatically scan and read one-dimensional code and two-dimensional code

430*430mm stage, can order four trays of 7-inch materials at the same time

Inductive automatic printing of material labels

The bottom hollow design makes it easier for the operator to stretch the legs

Multi-disk material, bulk material, random material, desiccant blocking material

Automatic on / off x-ray light tubes, greatly utilizing them

The bottom hollow design makes it easier for the operator to stretch the legs

Pointing speed 9-12S, (Chip 0105) accuracy up to 99.99%

Local data storage, real-time data can be uploaded to the factory ERP software to connect to the EMS system

Embedded display adds a touch of beauty to the device