X-RAY non-injury detector DH-X7 is a high-precision and economical product. Its design is simple and elegant,
and its operation is simple, which can meet the measurement needs of most customers.
Operation model
Fully automatic (CNC) control, CCD navigation
Application industry:
SMT, BGA testing, semiconductor, LED, lithium battery (metal shell, polymer), casting (cast aluminum, cast iron),
plastics, connectors, 3D printing analysis, automotive electronics, ceramic products, pharmaceutical products,
food, agricultural seed screening etc.
Major Function:

X-ray tube and detector can be moved along the Z axis
Computer set voltage, current
The platform loading can be moved in XY direction
Defect automatic identification function, automatically determine NG/OK
Automatic analysis of flaws, BGA diameter, void ratio, area and roundness
Programmable operation


High-resolution CCD navigation
Defects below 2.5μm
X-ray tubes and detectors can be used continuously online for 24 hours
The software is easy to operate, and easy to learn (available in both Chinese and English versions)


High precision mechanical design and high repeatability

Results tested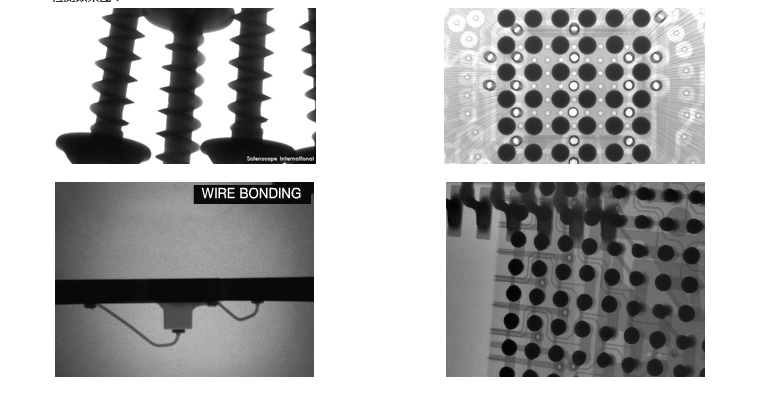 Specification:


X Ray Tube:


Tube Voltage:90KV(
Options:100KV,130KV)


Tube current:0.18mA


Focal spot size:5μm


Geometric magnification:200times
System magnification:2000times
Dimension:980*1000*1700mm
Sample table movement:300mm*400mm
Operating system:win7

Altitude:2000m

Temperature:-10℃-45℃
Power:single-phase 220-240V(±10%)


Weight:1250KG

Warranty: The whole machine is guaranteed for one year (except for man-made and force majeure)



Safety and security:


1. The whole machine adopts lead plate embedded protection, seamless splicing, no pollution,
ensuring environmental protection of the equipment and no radiation leakage.


2.
The doors and windows are set with safety lock switches. Once the doors and windows are opened,
the light pipe is immediately closed and cannot be opened directly.

3.
After the equipment is not used for a period of time, the X-ray tube will automatically enter the
protection state to prolong the service life of the light tube.


4.
The radiation dose of X-RAY non-injury detector DH-2600 equipment is 0.3μSv/h, and the radiation
dose received by the equipment operator for one year of continuous operation is
0.3μSv/HX8h/dayX360day=0.864mSv/year, which is lower than 2.4mSv/year in nature .
Application cases: